UK Rail Sector – Jobs & Skills Shortages Update – December 2019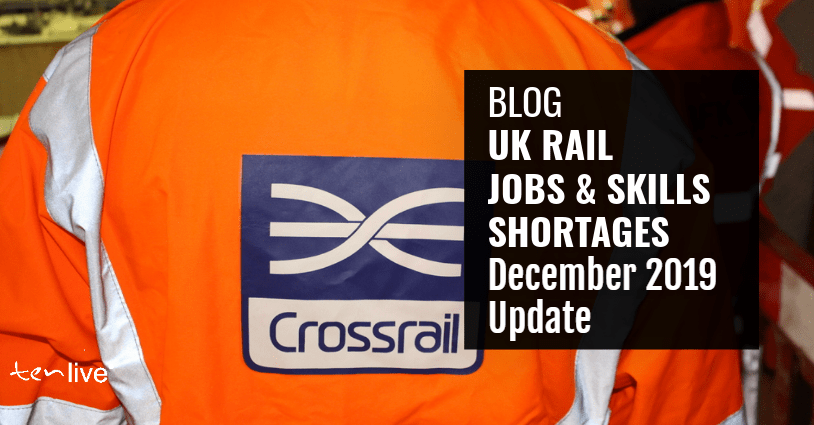 HS2 & JOBS
HS2, the largest infrastructure project in Europe has been beset by rising costs,  delays and opposition from environmental campaigners since Phase 1 operations began in January 2009.  Once complete, the new high-speed rail track would link London and Scotland serving over 25 stations and connecting London, Birmingham, Manchester and Leeds. HS2 trains would also cross over onto the existing railway to also serve further towns and cities in the north of England and Scotland.
The first phase  connecting London and Birmingham was originally due to open in 2026. However, this route might not open until 2028 at the earliest but potentially not until 2031.
The schedule for opening Phase 2  – extending the line from Birmingham to Manchester and Leed wass due to open in 2032-33, but has been pushed back to between 2035 and 2040. This phase, also known as 'H3', 'Northern Powerhouse Rail' and 'Crossrail for the North' could cost up to £15bn.
In 2017 the UK government said Phase 1 would create 16,000 jobs. In total, construction of the full HS2  route to the north-west and Yorkshire is forecast to generate  up to 25,000 jobs and 2,000 apprenticeships. Another 3,000 people would operate HS2 and it is estimated that growth around nee HS2 stations would create another 100,000.
In May 2019 HS2 Ltd said the project;
Has supported 9,000 jobs to date
Will support 30,000 jobs at peak construction, not only on the route but across the UK
Over 320 of the 2,000 expected apprentices are already on board
2,000 business have provided work for HS2, 98% of which are British
December 2019 – there have been calls to upgrade a training school in Solihull to help meet the increased need for construction workers for HS2
The whole HS2 project however is currently under independent review, overseen by Douglas Oakervee, the ex-chairman of HS2. The review, launched in August 2019, is looking at whether the project should continue to go ahead, how much it will cost and whether Phase 2 (linking London and Leeds) should be scrapped to save money.  HS2's total cost has risen from £62bn to between £81bn and £88bn.   Business and council leaders across the North are pressing for Phase 2 (Hs3)  to go ahead, firmly believing the project will create 850,000 jobs and boost the Northern economy by £97bn.
Findings from this review will be published after the General Election on December 12. No date for this announcement has been set yet, however a leaked draft version of  this review has  suggested the government should push ahead with the project despite the  rising costs.
'Midlands Engine Rail' Project
In September 2019 Midlands Connect unveiled the 'Midlands Engine Rail' improvements project, a £3.5bn blueprint to improve rail connectivity in central Britain consisting of seven projects, including a £2.02bn Midlands Rail Hub, a scheme for infrastructure, including two new viaducts in Birmingham. The project would be integrated with HS2 to directly benefit 60 towns and cities in the region If Midlands Engine Rail gets the nod from government, the seven schemes would be delivered in stages from 2022, bringing new jobs
Crossrail
Crossrail Limited which will deliver the Elizabeth line , a new railway for London and the South East, running from Reading and Heathrow in the west through 42km of new tunnels under London to Sheffield and Abbey Wood in the east expected to deliver the equivalent of 55,000 full time jobs and up to 14,00o at peak construction
The project however is due to be completed between October 2020 and March 2021, 2 years behind schedule
More than 1,000 apprenticeships will have been created by Crossrail Limited, Network Rail, Bombardier and MTR Crossrail during delivery of the Crossrail programme.
Crossrail 2
In May 2019 plans were published for Crossrail 2, a new proposed railway linking the national rail networks in Surrey and Hertfordshire via an underground tunnel through London. Crossrail 2 would support:
60,000 new jobs across the UK supply-chain
200,000 new jobs once completed
Train Manufacturers & Jobs
Bombardier 
Canadian train manufacturer Bombardier which employs around 2000 people at its Derby factory continues to fill up its order books for 2019/2020
In March 2019 Bombardier launched a recruitment drive to hire  300 assembly workers to help it deliver a record number of trains over the next two years for a variety of customers
In July 2019 a consortium led by Bombardier, along with Orascom Construction and Arab Contractors, won a contract to design and build two new monorail lines in Cairo and supply rolling stock for the Egyptian government in a deal worth more than $4.bn (Bombardier's share $2.85bn)  creating 100 jobs.  Bombardier has also formed a partnership with rival train-maker Hitachi to bid for the right to supply trains for HS2 in a  £2.75bn deal which would provide work for Bombardier's Derby site and Hitach's factory in Newton Aycliffe in the north-east of England
In late November 2019 Bombardier announced 400 new job vacancies at its Derby site as it increases production on a number of major contracts  for three key customers, Greater Anglia, South Western Railway and West Midlands Trains.  Bombardier said it was looking for applicants of all ages.  experience and all backgrounds and gender.  The company said that bespoke training would be provided to people with a basic mechanical knowledge and experience of using hand tools who want to gain entry into the industry. Bombardier also aid it was looking for experienced workers with knowledge of the rolling stock sector, including welders, electrical testers and vehicle builders
In December 2019 Bombardier signed a 3-year services contract  with FirstGroup and Trenitalia for its new joint venture Avanti West Coast franchise in the United Kingdom which started operations on December 8.
Hitachi
In December 2019 First Trenitalia was awarded a contract worth more than £350m to provide and maintain 23 new intercity trains to be built at its County Durham factory which will start operating in 2022 for West Coast Main Line and in North Wales
Talgo
In October 2019 Spanish train manufacturer Talgo set up its UK head office,  Talgo UK  in Chesterfield which will host a small admin function.  In November 2019 the company announced plans to build a factory at Longannet in Fife, to build trains for the UK and abroad and bringing more than 1000 jobs to the area. Talgo is currently bidding for the £2.75 billion HS2 classic-compatible train contract, as well as other fleets. Talgo has said for each job created at the planned Talgo factory in Longannet in Scotland, five will be created in the supply chain;  "Talgo's UK aim is to establish true manufacturing, rather than assembling from parts made elsewhere. This means that we will draw from materials and expertise across the UK. This keeps more money in the UK economy and creates more skilled, long-term jobs."
RAIL SECTOR SKILLS SHORTAGES
The Strategic Transport Apprenticeship Taskforce estimates that 50,000 workers will be needed in the UK rail sector by 2033. The nature of work is also changing at pace with rapid changes in technology and there are further potential skills gaps, particularly at higher technical levels.  The skills gap is caused by a number of factors including poor diversity, an ageing workforce, changing demands, and difficulties attracting people into engineering disciplines and STEM subjects. Yet the requirement for higher level skills is increasing because new roles are emerging. Developments in technology, a move towards digital transport systems, and newer ways of working such as offsite and modular methods of construction and engineering are all fueling this demand.
Rail Engineering Skills Shortages
The UK is falling short by around 49,000 engineers a year to 2024. The rail industry in particular faces even further engineering skills shortages, with one in five rail engineers currently aged over-55. Bombardier for example  consistently has 160 to 180 vacancies for technicians and engineers in UK rail
Train Manufacturing & Maintenance – Technology Filling Skills Gaps
The rail maintenance sector is facing a number of severe skills shortages, as a result of the growing number of trains in operation and staff losses through retirement and a reduction in the number of EU workers ( who make up 17%  of the workforce). The sector needs to recruit 11,000 technicians and engineers in London and south-east England by 2024 according to the National Skills Academy for Rail. Train manufacturers such as Bombardier are therefore rethinking their recruitment practices in light of this lack of availability of skilled workers.  New diagnostic tools and technology now available to train manufacturers' maintenance businesses remove the need for technicians to diagnose train faults themselves, therefore enabling companies to hire workers such as HGV mechanics and train them quickly in basic maintenance work and use of new diagnostic technology.
Neil Robertson, CEO of the National Skills Academy for Rail said  rail companies are hiring people with transferable skills from other sectors, particularly military veterans. They are also training growing numbers of apprentices and working to attract women and ethnic minority candidates to an industry traditionally dominated by white men.
National College for High Speed Rail – Apprenticeships
The National College for High Speed Rail which opened in 2017 was established by employers, supported by the government to help the rail industry meet the skills shortage challenges offering  Level 4 and 5 apprenticeships and full-time courses. The college which has sites in Doncaster and Birmingham has already worked with companies such as BBV, EK, Honeywell, Atkins, Arcadis and Volker Rail
In February 2019 the college said that it had  230 learners enrolled and was on track to reach its learner target of 396 by the end of 2019 and a  target to enrol more than 1,000 students a year by October 2022.To hit this target it is now looking to diversify its curriculum to teach students of other transport discipline and is also changing its name to the National College for Advanced Transport and Infrastructure in a bid to meet the changing demands and skill s shortages of the UK transportation sector
The College is now looking to modify its curriculum to provide higher technical skills for the advanced transport and infrastructure sector, including light rail and metro
Network Rail – New Engineering Apprenticeships
Network Rail, which owns and operates all of Britain's railway track, stations, bridges, tunnels, signals and level crossings and supports 117,000 jobs throughout the supply chain, was recruiting  150 Level 3 engineering apprentices in October 2019. The three-year course will start in March 2020, will combine on-the-job training and classroom-based learning, enabling candidates to 'earn as they learn' and gain first-hand experience and skills from a range of different rail careers (up to £40,000 over 3 years) and achieve an Edexcel, City & Guilds and ILM accredited qualification
'Made in Chesterfield' – Developing Talent & Upskilling Existing Rail Workers In Digital Skills
In December 2019  a new 'Made in Chesterfield' campaign sponsored by the University of Derby in partnership with Derbyshire Education Business Partnership announced a new package of SME support to 'strength the capability of businesses in Chesterfield and the surrounding region, with access to research and expertise that can help foster innovation'.  Professor Warren Manning, Pro Vice-Chancellor and Dean of the College of Engineering and Technology, said: "We want the East Midlands to grow, innovate and improve productivity in order to meet the opportunities that HS2 and the wider rail industry will bring to the region. We need 6,000 extra workers in Sheffield City Region (SCR) and D2N2 to deliver HS2 and a key part of that is upskilling existing workers in digital skills.  The 'Made in Chesterfield' campaign will bring together education providers and businesses to ensure local young talent is aware of the  STEM jobs and careers available in the are, including the rail sector. STEM employers in the region will be offering school leavers a variety of opportunities, including apprenticeships, degree apprenticeships and graduate training schemes.
Ten Live Are Rail & Transport Recruitment Experts
ISO 9001:2015 accredited rail recruitment agency
Hugely successful and proven track record across the rail sector in Europe and Middle East (UAE, Qatar, Bahrain, Kuwait, Saudi Arabia), we source the highest quality the UK and international candidates.
We provide a personalised, tailored service supplying experienced, skilled, reliable, permanent and contract rail resource:
Rail & transportation recruitment – Search & Selection
Contingency Recruitment
Recruitment Consultancy
Resource Management
HR Consultancy and Retention
RPO
Bids & Tender support
Contract Management
Contact
Ten Live
Tel: + 44 (0) 1236 702 007
Email: info@tenlivegroup.com
SOURCES