Transport Operators & Drivers: Are You Ready For Winter ?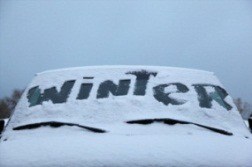 With winter fast approaching, the message to drivers and transport operators from the FTA  (Freight Transport Association) is get prepared NOW for the onslaught of winter weather. "Insufficient preparation can lead to lives being put at risk, people stranded for uncomfortable lengths of time, and emergency services becoming stretched". Not only that, any unplanned vehicle down-time can cost transport operators time and money and could affect customer relations and contracts.
Be Aware of Weather/Road Conditions
Being aware of approaching severe weather is vital – having access to reliable weather information allows drivers and transport operators to make informed decisions about where and when to travel, to plan journeys and adjust dri­ving accord­ing to the con­di­tions and plan jour­neys

The

 

FTA

 T

raffic Service

 p

rovides vital

amber

and

red

alerts for winter weather and operates 24 hours a day, seven days a week

S

ign up now for

T

he

 FTA

 

 Weather Update Service

 
Advice On Dealing With Winter Weather Conditions from the FTA
Make Sure You Have Your Vehicles Properly Prepared
Safety first is key at this time of year and now 

is the time for transport operators to 

start ensuring vehicles are properly prepared and checked in advance of winter weather
Traffic Scotland have produced a great leaflet for transport operators  on

 

Winter Weather Best Practice

. 

Key advice includes c

hecking and replacing tyres, testing and maintaining batteries ahead of winter weather, measures to keep depots and distribution centres clear of ice and snow and ensuring vehicles hold winter emergency kits

Severe winter weather can have a major impact on transport networks and correspondingly transport operators and drivers.  

Keeping updated with winter weather travel information and taking measures now to prepare for winter and will ensure vehicles and drivers are suitably equipped to cope with severe weather and transport operators will save time and avoid unnecessary costs
Plan ahead and you will be better prepared this winter !
Did you know ?  

 have THE best Supply Chain Solutions resourcing team in Scotland and provide;
The very best customer-centric resource solutions & management

Temporary and permanent placements

High volume, fast-moving, quick response, flexible solutions

Access to highly-skilled, experienced candidate pools including drivers, warehouse, managers and senior executives
E-mail supplychain@tenlivegroup.com or call 01236 702 157

 clients include leading UK (FTSE 100 & blue-chip) companies across a range of sectors;  FMCG, Manufacturing, Construction, Energy, Waste Management, Design, Professional Cleaning,  Aviation, Rail, Wholesale, Recycling, Pallet Freight Distribution, Gas Supply, Engineering,  Global Logistics (including petroleum), Office Supplies Distribution, Building Services
Looking for a job ?
Check out Ten Live's latest jobs at LinkedIn, TotalJobs, Scotjobsnet
For the latest Ten Live and industry news
 Follow  

 on our Ten Live's LinkedIn company page  or on Twitter read Ten Live's latest Supply Chain whitepaper  on  Peak Compliance Management or check out our other Supply Chain whitepapers on the 

 website

 is a global recruitment and resource management company, providing THE very best Global Customer-Centric Resource Solutions in the supply chain logistics solutions, energy and telecoms sectors in the UK, MENA, Australia Pacific, Asia and Central/North/South America