Derby Rail Jobs – £200m Investment In Derby Station East Midlands Line – Highest For Decades
The outlook for Derby rail jobs is very much a positive one as Derby's rail sector is experiencing the highest level of investment for decades. £200m Investment In Derby Station East Midlands Line – Highest For Decades, resulting in Derby rail jobs! In sharp contrast to Derby's engineering sector, which recently received a massive blow as engineering firm Rolls-Royce announced 3,000 jobs cuts for Derby.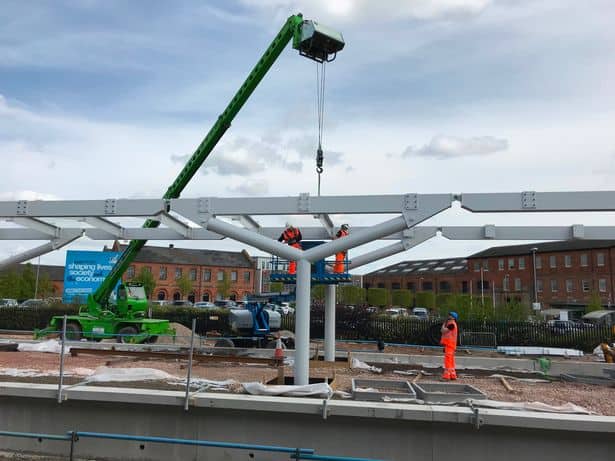 Image source: Derby Telegraph
We Are Recruiting – Derby rail jobs! 
Contract Roles: 
Mech Biased Fitters – HST – Derby / East Midlands
Technicians – 15X knowledge – Birmingham / West Midlands
PNT Technicians – East Midlands
Painters / Preppers – East Midlands
C4 Overhaul technicians – West Midlands
C8 Technicians – Reading
Welders / Fabricators – Derby / East Midlands
Permanent Roles:  
IT Engineer – French Speaking Role With SQL knowledge – Rail
Fleet Engineering Manager – Scotland
Head of Engineering – Scotland
Facilities Manager – Derby Euro 4000
Fitter – Europe Fleet Manager – York
Rail Recruitment Consultant – Derby
Contact
Please contact Richard Hayes for an initial discussion about any of these roles
Richard Hayes – Operations Manager
Ten Live Rail
Tel : 01332 897487 Mob : 07702 510363
E-mail: richard@tenliverail.com
£200m Derby Station & East Midlands Upgrade –  Derby rail jobs!
In January 2018 the £200m campaign for an improvement project to Derby station and signalling on the Midland Main Line project was launched
Network Rail will be working in partnership with East Midlands Trains and CrossCountry to rebuild the track and signalling in and around Derby railway station and upgrade the station itself from July to October 2018. Network Rail will oversee the work, along with operators East Midlands Trains and CrossCountry,
It will be the biggest rail investment in Derby for decades. Whilst Derby station was modernised in 2013, the surrounding network has needed upgrades for a number of years, having not been improved since its installation nearly 50 years ago
The programme involves the upgrade of Derby station and the replacement of 17km of the track which will be re-laid in a different configuration, as well as 55 new straight post signals, nine new signal gantries and 79 sets of points.  Jo Johnson, MP, Rail Minister said: "The £200 million re-signalling programme in the Derby area will improve reliability, punctuality, and ensure the line is fit for future growth."
The £200 million scheme of improvements should in the long term lead to an improvement in journey times between Sheffield, Derby, Nottingham and London. It should also improve the overall efficiency of the station.
Currently, a new 320-metre platform is being constructed at the station
Ed Akers, a principal programme sponsor at Network Rail, said: "This is a huge investment into the railway in Derby and will provide benefits for the thousands of people who travel to, from and through Derby station every year. "The work is part of the Midland Main Line Upgrade and, once completed, will provide a more modern and reliable railway for passengers.
Andy Cooper, managing director of CrossCountry, said: "These works are important as they will deliver a bigger and better railway at Derby, benefiting the region and people travelling to, from and through it.
East Midlands Rail Franchise – Tender Process Kicked Off June 2018 – Derby rail jobs!
The tender for the East Midlands rail franchise was put out to tender in June 2018. Under the new franchisee, Derby rail users could be set to benefit from a new fleet of trains, more seats at peak times and faster journeys
The current franchise is operated by East Midlands Trains
Whoever wins the competition must be able to prove that they can deliver improvements to current services. Among the improvements being targeted include;

The introduction of a new fleet of bi-mode trains
50% more peak-time seats
The frequency of services would increase across the franchise, including improved early/late evening services and better services on Sundays.
Specific routes would be targeted for improvements, including between Derby and Crewe

Among those consulted was Transport for East Midlands (TfEM), an organisation that brings together senior leaders from the region's local transport authorities. Sir Peter Soulsby, chairman of TfEM, said: "Through TfEM, councils have been working in partnership with the DfT to ensure we get the best result for passengers, businesses and local communities out of the franchise process. The invitation to tender provides a real opportunity to transform rail services across the East Midlands. We are a growing and prosperous region – and we need rail services comparable to the best elsewhere in England to fulfil our economic potential. The invitation to tender also confirms that electrification of the Midland Mainline to 125 mph standard will extend as far as Market Harborough – which means that over 50% of the line will be electrified by 2023. This will rise to 62% once one the section between Clay Cross and Sheffield is completed for HS2.
Rail Minister Jo Johnson said: "We are investing in the biggest upgrade to the Midland Main Line since it was completed in 1870. We have listened carefully to what thousands of passengers and stakeholders have said they want to see in the next East Midlands franchise. We expect the next operator to unlock the unrealised potential while building on its stable foundations."
Ten Live Rail Are Rail & Transport Recruitment Experts

As a RISQS and ISO 9001:2015 accredited rail recruitment provider, with a hugely successful and proven track record across the rail sector in Europe and Middle East (UAE, Qatar, Bahrain, Kuwait, Saudi Arabia), Ten Live Rail recruitment source the highest quality the UK and international candidates.
Ten Live Rail provide a personalised, tailored service supplying experienced, skilled, reliable, permanent and contract rail resource:
Rail & transportation recruitment – Search & Selection
Rail & transportation technical & strategic management
Contingency Recruitment
Recruitment Consultancy
Resource Management
HR Consultancy and Retention
RPO
Bids & Tender support
Contract Management
Contact
Richard Hayes | Operations Manager 
Ten Live Rail
9 Riverside Court | Riverside Road | Pride Park | Derby | DE24 8JN
Tel: 01332 897487 | Mob : 07702 510363 |
SOURCES