Early Years Jobs Saudi Arabia – Fantastic Tax-Free Salary & Benefits Packages – Excellent Career Opportunities – Brand New World-Class Schools!
Early years education is the current hot topic in education reform in Saudi Arabia. It is the focus of millions of pounds of investment to create world-class early years teaching facilities, creating hundreds of new early years jobs in Saudi Arabia. We have a number of Early Years Jobs in Saudi Arabia!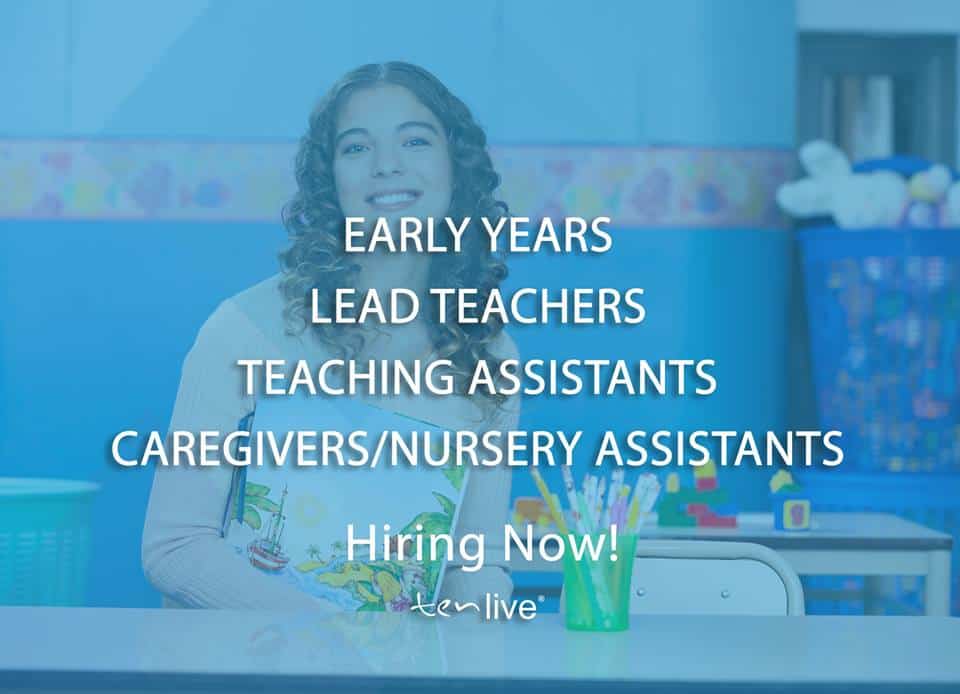 Education and in particular early childhood education has long been at the forefront of the Saudi government's ambitious and positive long-term development plans, Vision 2030 since its launch in 2016. A key aim of Vision 2030 is "to give every Saudi child the opportunity for good education" starting with early childhood education.  Equipping future generations with the skills to enable them to excel in the global marketplace and creating a highly-skilled Saudi workforce is fundamental to achieving Vision 2030.
We Are Recruiting!
Early Years Jobs Saudi Arabia (Riyadh)
Lead Teachers  | Teacher Assistants  | Caregivers/Support Assistants
Tax-Free Salaries From £55,000 to £82,000 per annum
(Plus flights, visas & medical cover)
CLICK HERE  FOR MORE INFORMATION & TO APPLY
Ten Live – Award-Winning Middle East Education Recruitment
E:mail info@tenlivegroup.com | Tel: +44 1236 702 007
 Early Years Education – Focus Of The Saudi Government 2018
This year's theme at Taleem 2018, the 6th International Exhibition for Education in Riyadh, again focused on the importance of early childhood education.  Minister of Education, Dr Ahmed Al-Issa reaffirmed the Ministry of Education's commitment to the focus on the early stages of education;  " the Saudi government believes that proper intervention at an early age will provide the children with high values and will help develop their skills in all areas. This will facilitate the transition to the beginning of the education journey in a more suitable manner for the coming generations".
The Saudi government is undertaking huge investment and bringing together local and leading international education experts, practices and experiences to create world-class, modern early years educators kindergartens, nurseries and early childhood centre that support comprehensive child education. A comprehensive project is reviewing research, studies and the latest international practices and experiences aimed at developing early childhood services in support of children's skills in the 21st century. It aims to bring every Saudi child to the opportunities of quality education in a variety of options, focusing more on the stages of early education (in support of the development vision).
Ten Live  – Award-winning Middle East Education Recruitment
Proud to work with the most prestigious educational and training institutions in the Middle East
What Candidates Can Expect From Ten Live
Quality Job Matching– We will take the time to thoroughly understand your skills, experience and career goals. We will work with you to identify and match Early Years jobs suited to your skills profile and objectives, whether permanent or contract
Outstanding Service– We are committed to providing customer service excellence to all our candidates and contractors  – we consistently score 100% for customer service satisfaction 
Outstanding communication and 24/7 assistance wherever you are in the world – we will take you through your next career move and contract step-by-step and at keeping you up-to-date at every stage 24/7 – that's a promise!
Trust In Our Advice– We know what we're talking about. Our expert Early Years recruitment consultants are highly-experienced.  They know exactly what  Early Years employers and institutions are looking for – the advice our consultants offer you will give a real competitive advantage over other candidates
We offer every candidate  full employment assistance, including CV, salary & benefits, interview strategies VISA assistance, relocation services
Our in-house payroll service ensures you are paid accurately, on time, every time
We protect you– we work to the highest standards of compliance. We are experts in international contractor legislation and provide a free advice line to candidates
Contact
Ten Live Group
Award-winning Middle East Education & Training Recruitment Specialists
T: + 44 1236 702 007
E: info@tenlivegroup.com
Click HERE for more information
SOURCES