HGV Drivers UK – Read The Latest On The Sector! – August 2018 Update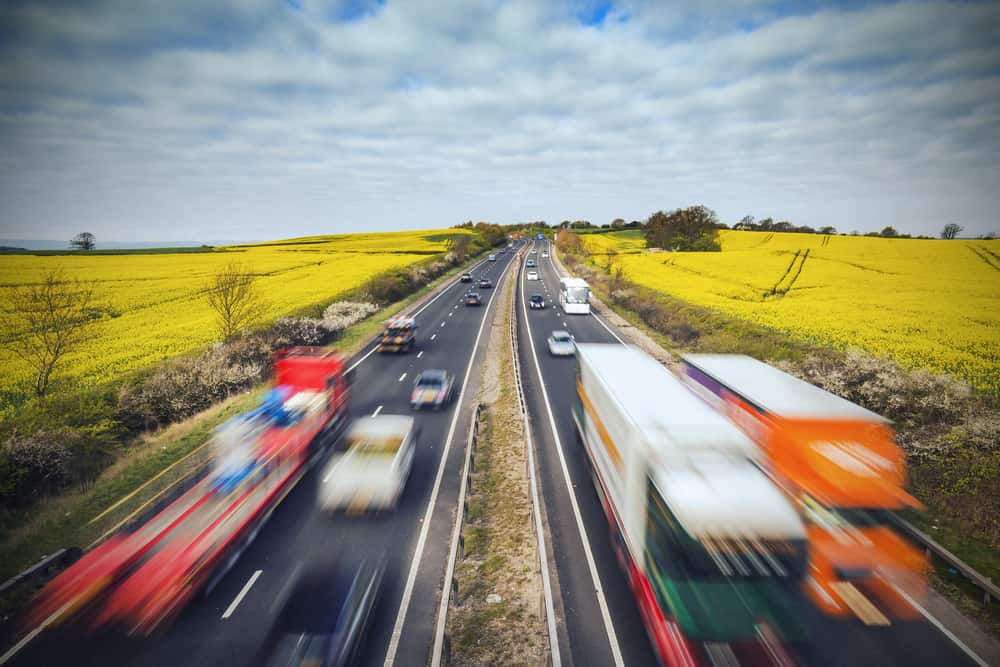 With Brexit looming and a number of UK legislative changes taking place in 2018, the UK HGV driver industry is facing a number of challenges. Here, we look at some key issues facing the industry currently;
Impact Of BREXIT  On The Sector- Update July 2018
Impact On Supply Of Driving & Warehouse Skills
The Freight Transport Association (FTA) which represents more than 17,000 businesses across the UK logistics sector is urging the government to act on the findings of a July 2018 Home Affairs Committee report on migration, to ensure that UK businesses can continue to operate at full staffing levels after the UK leaves the EU
The logistics sector represents 11% of the British economy's GVA. It relies heavily on EU workers as 14% of UK  HGV drivers (in 2018 there were 318,700 HGV drivers employed in the UK) and 25% of UK warehouse staff come from other EU countries.
 James Hookham, Deputy Chief Executive of FTA said the Committee is right to raise concerns over the lack of guidance given to business over the future rights of these trained logistics staff: "Up to now, the political emphasis on Brexit has focused on trade and borders, while sidelining future immigration policy for a later date. EU workers represent more than 12% of the UK's logistics workforce, yet this lack of clarity on their future status has left their employers in limbo, not knowing whether they will be able to continue employing them under their current contracts after Brexit. The Migration Advisory Committee is due to publish its findings over the future of EU workers currently in the UK in the autumn, but this is too late for businesses which are already planning for 2019 and beyond. A clear and informed debate about the various policy options available needs to start now about future access to non-UK workers, so that employers can have clarity on the scale of their recruitment needs."
We Are Recruiting!
C+E Drivers (Class 1/LGV1) Lesmahagow!
Insert job video
Click HERE for further information & to apply today!
While permanent EU workers form a significant proportion of the workforce for logistics businesses across the sector, there is a particular need for the continued availability of seasonal workers to support fluctuations in trading requirements, for example in the soft fruits industry. Hookham went on to say: "Around a quarter of warehouse operators tell us that EU workers make up 75% or more of their agency staff, so if these people cannot be employed in the UK after Brexit, their absence would pose a real threat to the supply chain. These businesses are currently living on a knife-edge of uncertainty about the future: when will employers be able to write to their employees who hold non-UK EU citizenship and confirm their employment status after Brexit?"
The potential impact of EU workers leaving the UK will only add to the already significant skills shortages across the sector, with more than 52,000 vacancies for HGV drivers nationwide.
We Are Recruiting!
C+E Drivers (Class 1/LGV1) Lesmahagow!
Insert job video
Click HERE for further information & to apply today!
A Possible Need For 'International Driving Permits' Post Brexit – HGV Drivers
UK drivers may have to pay for an 'International Driving Permit'  (IDP)to be able to legally drive in the EU after Brexit if, as part of the Brexit negotiations, British driving licences would no longer be valid in EU countries. An International Driving Permit (IDP) could allow drivers to travel in and out of EU countries for up to 12 months and will cost £5.50
It is estimated that up to 7m new permits would need to be issued within the next year to allow UK motorists to drive in the EU. There are now fears that the Government won't be able to cope with the demand from motorists for these permits
Currently, UK drivers can drive in the EU using their normal licences but this could all change post-Brexit
A  report from the National Audit Office (NAO) stated that the Department for Transport will need to formulate 'detailed delivery plans' to make sure drivers can still travel across European countries seamlessly. A government spokesman said: "The NAO concludes that the department is making a determined effort to ensure the UK transport system is fully prepared for EU exit and acknowledges that the department has already achieved a great deal."We have prioritised preparation for EU exit and royal assent of the Haulage Permits and Trailer Registration Bill will be a significant step in this process."
However, the Government is hoping to continue this "mutual-recognition", that UK drivers will still be able to drive in the EU after a Brexit deal is agreed. A spokesman for the Department for Transport said; "Our aim is to reach an agreement with the EU for mutual licence recognition after Brexit. Ratifying the Vienna Convention (which the UK abides by but has not ratified) will guarantee that UK driving licences will be accepted throughout the EU when held with the relevant supporting International Driving Permit."
New UK Driving Laws Coming Into Force 2018 – Affecting HGV Drivers
In 2018 a number of new road rules, driving laws, offences, and regulations will be and have been introduced which could change how UK HGV drivers use the road. Here are the new rules and laws that are set to be announced over the course of 2018:
Driving too close to a cyclist – UK drivers can be fined  £100 if they fail to leave enough distance away from a cyclist when overtaking them. You are required to leave at least 1.5-metres away from the cyclist when passing them.
Engine idling – A number of councils across the UK are clamping down on engine idling and will hand drivers a £20 fine. It is estimated that 30 councils in Britain are targeting drivers including Nottingham City Council and Westminster Council.
Pavement parking  – A nationwide pavement parking ban has been proposed in the UK, which could see drivers flouting the rule land a £70 fine. The Department for Transport announced earlier this year that they could introduced a nationwide ban for offenders. Under current laws, it is only illegal to park on the pavement in London. Some councils and police have already taken action against offences with Scotland announcing a forthcoming ban and Greater Manchester Police regularly sharing photographs on Twitter of them fining offenders.
Smart motorway – Drivers could soon be penalised in the UK for driving in a motorway lane that is delineated by a red X. The red X refers to a lane closure, for example, if there has been an accident further down the road. Roadside cameras would automatically detect drivers flouting the rules and includes a fixed penalty notice of £100 and three penalty points.
Driving in the motorway middle lane – When driving along a three-lane motorway, rule 264 of the Highway Code states: "You should always drive in the left-hand lane when the road ahead is clear. If you are overtaking a number of slow-moving vehicles, you should return to the left-hand lane as soon as you are safely past." Middle lane hogging can cause congestion on motorways at busy times.   Surrey Police, for example,  is having a crackdown on the motorway offence. Drivers, however, can land a fine of up to £100 and three penalty points. However, officers could alternatively offer drivers roadside education or require the driver to attend a driver awareness course.
 HGV Drivers & Transport Services – Demand For Better Services/Rest Areas – Update August 2018
Malcolm Bingham, head of road network policy at the FTA commented on recent research that investment in services for commercial drivers has not kept pace with investment for consumer motorway transport services and that satisfaction levels in these areas are dropping: "While it is encouraging that motorist satisfaction for motorway service areas has risen since the facilities survey in 2017, the gap between the private and commercial sectors is widening in approval terms," he says.  "The investment in consumer services has generated a much-improved response from those polled, but increasing numbers of commercial drivers have concerns about the facilities offered to them, from a quality and quantity point of view. Commercial drivers are expected to undertake a physically and mentally demanding job on the nation's motorways, operating to tight deadlines and under considerable pressure," he continues.  "FTA's members have long been pushing for a more consistent standard of rest areas across the motorway network, and today's research shows that their concerns are real."
Among the concerns of the commercial drivers polled for the Transport Focus survey, a lack of overnight security provision was seen as a key problem, alongside the overall value for money, or lack of it, in overnight parking fees.
"Along with the Transport Focus findings, FTA members have raised concerns over the availability of HGV parking, particularly during the day, as well as insufficient parking spaces for vehicles, which makes use of toilet and refreshment facilities impossible for hard working drivers during the day," continues Bingham.  "After promising improved facilities for commercial drivers nationwide more than a year ago, the Department for Transport must now step up and fulfil its commitments to the logistics industry.  Goods vehicle drivers are covered by regulatory requirements for taking rest during their working week and deserve to have decent parking and facilities available in which to do so. The logistics industry is already struggling to recruit new workers, and with Brexit around the corner, it will find it even harder to attract new talent to the sector unless work is done now to bring service areas and their facilities up to scratch for all users, right across the country."
In August 2018  new government guidelines recommended improving rest services for HGV drivers and overnight HGV lorry parking should be considered in planning decisions and when DCs are proposed, a move welcomed by the RHA.
 Contact
Ten Live
Award-Winning Driving, Logistics & Industrial Recruitment
Tel: + 44 1236 702 007
E-mail: info@tenlivegroup.com