Meet The Team – Driving Recruitment Consultant – Sarah Gallacher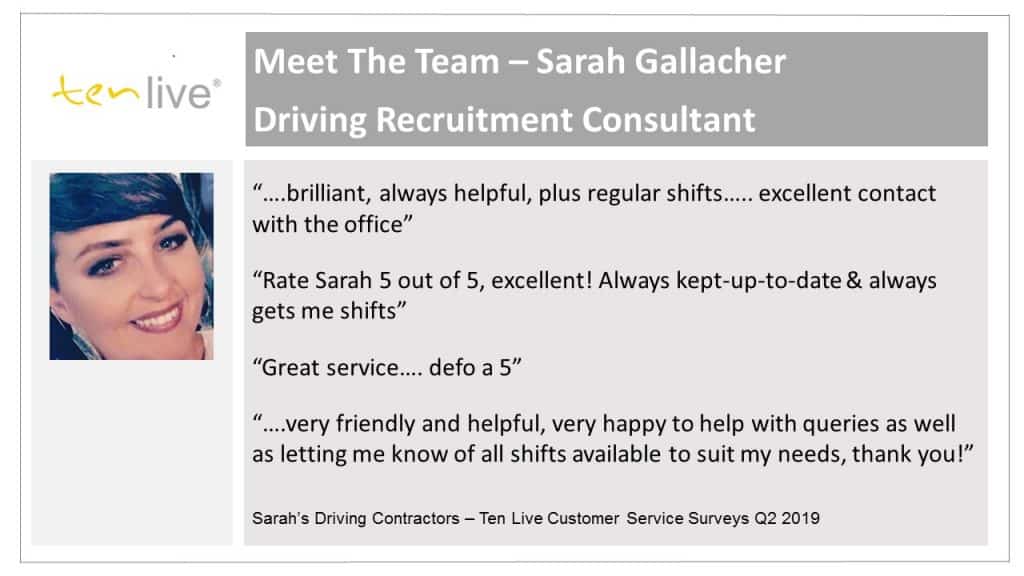 This week we're chatting to recruitment consultant Sarah Gallacher in our award-winning driving recruitment team. 
Sarah  joined Ten Live's high-performing driving desk as Class 2 (LGV2) driving recruitment consultant in 2018, having previously worked in a client-facing customer services role with  high-profile phone and internet retail banking giant First Direct.  Retraining as a recruitment consultant with Ten Live, Sarah's remit covers registering new Class 2 drivers to Ten Live, booking drivers onto shifts with existing clients and managing  volume temp recruitment.  Working in close partnership with our division manager, Sarah is also responsible for Class 2 client business development.
Joanne Telfer, Owner  at Ten Live said: " We have been supplying the supply chain logistics sector for nearly 30 years and now with Ten Live in it's 10th year, our driving recruitment division continues to be extremely successful with one of the most skilled and experienced driving recruitment desks in Scotland, if not  the UK.   The temporary market continues to outperform the permanent market – in a recent July 2019  report by KPMG  we saw that  labour market  growth for  UK temporary workers remained above permanent worker placements for Q1 2019, with highest demand continuing to be seen in the drivers, logistics and industrial sectors.  As a major player in the temporary driver recruitment market we are continually adding to our highly-talented driving recruitment team, from within and outwith the sector to meet increased client demand ".
Q&A with Sarah
Q.  What's The Best Thing About Your Job?
Sarah: "From talking to our drivers one thing I know which makes Ten Live really stand out from other driving recruitment agencies and which I'm really proud of is our track record in great customer service. No matter whether it's a client or a driver,  everyone at in the driving team will always  do everything in their power to get the right result for that person – whether it's the right skills for a client's business or shifts which fit in with a driver's other commitments. When you finally place someone in a hard-to-fill shift and the driver or the client really appreciates all the effort you've made, that's a really rewarding and satisfying part of the job". 
Q. What Are The Challenges?
Sarah: "Being  new to the sector, I've really been enjoying the challenge! At Ten Live we work with clients from so many different industries, from retail to food & drink to haulage for example who all have differing requirements in terms of driving skills required, but as the desk is so busy and we have so much client and driver contact, you're  immersed in things and get up-to-speed really quickly! Love the buzz!" 
Q. Sum up your job in one word!
Sarah: "Persistence! We never give up trying to place a driver in a shift or find a driver for our client, until we really have exhausted all the options and we finally get that driver placed or shift filled!"
LOOKING FOR FULLY-COMPLIANT, SKILLED & RELIABLE DRIVERS ?
LGV1 | LGV2  | 7.5T | 3.5T 
CONTACT
Ten Live
Award-Winning Supply Chain Logistics Recruitment
Tel: ++44 (0) 1236 702007
Email: info@tenlivegroup.com
UK & global supply chain logistics candidate network
One of the most skilled & experienced driving recruitment desks in the UK
Experts in temporary & contract driving recruitment
UK & International In-House Payroll
100% driving contractor service excellence rating
Quality Staff | Quick turnaround | Excellent Service

SOURCES