Offshore Europe 2019 – Changing Skills Landscape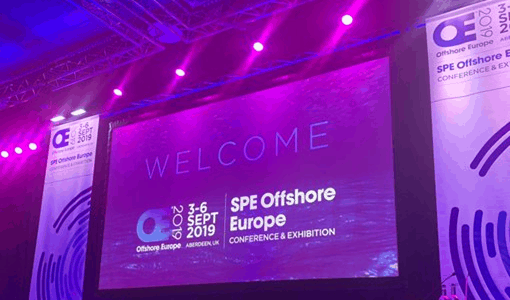 The size,  scale and sense of optimism at this year's Offshore Europe are indicators of the recent upturn in the UK North Sea.  Production is at its highest level since 2011 – companies continue to drive greater efficiencies to enable them to compete globally, with more new opportunities are being drilled.
In August 2019 Oil & Gas UK (OGUK) said the total number of jobs supported by the industry was 259,900, 5% down on 2018, but an improvement on the 14% decline between 2016 and 2017;
 

A rise in drilling activity prompted an 18% increase in drilling crew offshore in 2018

The central North Sea remains the area of greatest activity, with 49% of total offshore employment

Around 

7%

 of those travelling offshore came from the EU

Women represented just over 3% of the offshore workforce in 2018
The supply chain sustained 80% of all UK oil & gas jobs and achieves £27bn turnover in 2018
OGUK's Dr Alix Thom said current levels were more in keeping with long-term trends:  "These employment figures indicate a welcome stabilisation of workforce numbers and is positive news for an industry which has a relentless focus on improving the sustainability and safety of the basin. While parts of the supply chain continue to be under real pressure with tight margins, overall our report findings indicate that the health of our industry continues to improve".
Future Workforce –  Transition To A Lower-Carbon Future & Digitization
OGUK predict the number of jobs in the North Sea will rise by about 10,000 to 269,000 in 2019. Beyond that, its 'Vision 2035' highlights future opportunities to extend the life of the UK North Sea by at least a generation of productive life, doubling supply chain opportunities at home and abroad which could in turn deliver 25,000 new jobs over the next 6 years.
The nature of these new and existing jobs are however going to be impacted by 2 key drivers of change in the industry, central themes at Offshore Europe 2019 – 1) Energy transition to lower carbon 2) Digitization
Skills body Opito CEO John McDonald said in September  2019  "the UKCS is currently experiencing such change on an unprecedented scale….. the greatest transformation will be in the composition of this new workforce and the types of skills necessary to thrive. We are on the cusp; we're leaving behind the old reality of heavily-demarcated, highly-specific roles. We're entering a new era defined by a multi-skilled energy workforce that is flexible, dynamic and technology-enabled.
It is expected that around 80% of the current workforce will still be working within the industry in 2025, taking into account natural attrition and retirement.  The industry will have to focus on  retaining these skills, as well as upskilling and reskilling their staff as the industry adapts to take advantage of new technologies and different ways of working.
Challenge Retaining & Attracting Talent To The Industry –  Tranistion To A Lower-Carbon Future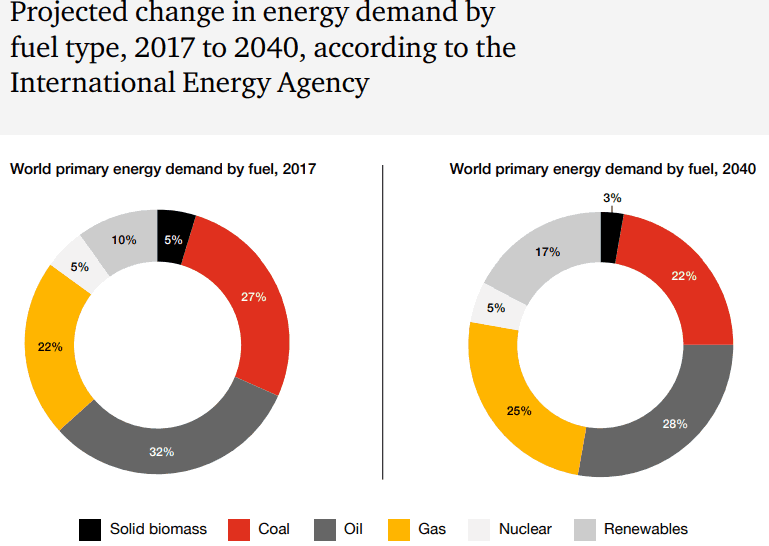 OGUK say oil and gas are expected to play a key role in the global energy mix for decades – UK government estimates show that by 2035 oil & gas will still be needed to meet two-thirds of the UK's energy needs. The North Sea industry currently provides almost 60% of that demand. Oil and gas still accounts for about 75% of the UK's primary energy demand with around 60% met by the UKCS.
However, the energy transition to a lower-carbon future is gathering pace  globally  as we witness a  growing trend to switch from oil and coal to natural gas and renewables.
Keynote speakers at Offshore Europe commented that although companies operating in the North Sea have been moving towards lower-carbon operations over recent years, more needs to be done, if "oil companies are to be seen as a part of the solution to these challenges, rather than part of the problem itself" and if they want to compete with sectors which have already adapted their business models to be climate-change focused adopted climate change  to attract the best in talent globally.
Michael Borrell, OE chairman and Total's senior vice president, North Sea and Russia said at Offshore Europe 2019: "We must show that we, as an industry, are serious about the energy transition. And I believe one of the ways of doing that is not to look at our feet, as we do this, but to look forward, be ambitious, and look at the horizon—and to know how our future portfolio can evolve. We can use our expertise to make sure that it evolves in the right way. To recruit the next generation of oil and-gas sector employees, the sector needs to put the positive case for the future of oil and gas, addressing climate change measures, if it is to compete with new industries". 
In September 2019 OGUK launched a a road map outlining how the North Sea can support the UK's aims to become a net zero carbon economy by 2050and by 2045 in Scotland.
Globally there is already evidence of  major companies diversifying from oil & gas and coal to sustainable energy / renewables;
Total's partnership with EREN Renewable Energy
Danish giant Dong Energy changed its name (an acronym for Danish Oil and Natural Gas) to Ørsted shelving its upstream oil, gas and coal business in favour of renewable energy sources
Gas giant GDF Suez recently reinvented itself as Engie, a 'sustainable energy for all' company
Retaining & Attracting Talent To The Industry – Digitization
A key theme at Offshore Europe 2019's session 'Securing Generation 2035′ discussing what the future workforce will look like was around the impact that technology and automation (which will continue to improve safety, efficiency and speed) will  have on manpower and how to retain existing & attract new staff.
In just six years Opito estimate the industry needs to attract 25,000 new people and 4,500 of those will be into completely new roles that do not currently exist in areas such as data science, automation, new materials,  data analytics, artificial intelligence, machine learning, robotics, material science, change, remote operations and cyber security.  Future roles may include 'Artificial Intelligence Business Developer', 'Virtual Reality Journey Builder' and '3D Material Scientist'.
Digitization – The Need For Upskilling
The majority of those currently in the sector are expected to remain in the next six years, emphasising the need for upskilling staff, for example in  technology and data skills sets such as analytics and remote working. Opito say introducing an element of artificial intelligence will have to be finely balanced and slowly, carefully implemented so that that depth of skills is not lost in pursuit of breadth of skills.
Mark Cullens, Director of Strategic Engagement at Opito said: "One of the findings is that technology is a key driver for the industry and will have major implications over the next five or six years. Around 80% of people in the industry will still be working within it by 2025 so there will be a big impact for reskilling of people. Management are largely behind the adoption of technology and there is a bit of repurposing needed around training budgets to this agenda".
A rad map built on four strategic components – Retain, Retrain, Recruit, and Renew – has been designed by OPITO in partnership with Robert Gordon University's Oil & Gas Institute to help the sector develop an increasingly flexible, multi-skilled and technology-enabled workforce.  Coordinated and facilitated by OPITO, on behalf of industry, the road map will include activities such as developing new education and training courses, technology focused apprenticeships and initiatives that support future recruitment and skills diversity.
Mark Cullens, Director of Strategic Engagement at OPITO said: "Oil and gas skills requirements are changing rapidly. Equipping the current workforce with the skills to adapt to this dynamic business environment is essential and work needs to begin right away. We have the potential to leverage UK skills and capabilities around the world, but close collaboration and partnership is needed to make an effective and lasting impact. We require a sharp focus on supporting the industry to take advantage of the benefits of digitisation and energy transition, creating a more technology-enabled, fluid and multi-skilled workforce of tomorrow. OPITO is working with industry and various stakeholders to coordinate and facilitate a route map of actions to help support the industry's Vision 2035 and the role of the sector in the low carbon economy."
Other Key Skills Findings By Opito:
8% of people's time in the industry is currently spent on repetitive, transactional activities which are more likely to become automated over time. Upskilling and reskilling the current workforce will enable people to carry out their role more efficiently and prepare them for different tasks and responsibilities.
There is a need to upskill the sector's leadership and management functions to ensure informed decision making with respect to technology adoption and change management. Developing future leaders should also be a priority.
The way in which the workforce wants to learn and develop new skills is also changing. New training methods such as virtual and augmented reality, simulation and situational analysis are becoming the preferred learning method. The report shows that people want short but formally structured 'nuggets' of learning, increasingly delivered through simulation.
Professor Paul de Leeuw, Director of Robert Gordon University's Oil and Gas Institute, commented: "The digital transformation of the energy sector is already underway and we are beginning to see a real change in requirements to support this. With a substantial proportion of the existing workforce to be upskilled and with over 25,000 new people entering the industry by 2025, we have a tremendous opportunity to ensure the UK retains its position as a world class basin for energy skills. This will require a new level of collaboration between industry, governments, agencies and the education sector to ensure the present and future workforce are equipped with the requisite skills. There is real prize here for the UK and there is a collective responsibility to future-proof the skills and capabilities in the sector."
Digitization – Attracting Bright Young Talent 
Skills are a fundamental part of the Vision 2035 Strategy being adopted by businesses in the energy sector. They recognise that embracing the developments of new technologies is crucial to their future, but also that people are central to delivering that future:
Skills Development Scotland is working with the industry and Scottish Enterprise to ensure firms have the right skills in place and has highlighted positive steps already being taken by the industry such as the increase of work-based learning and Robert Gordon University's graduate apprenticeship in data science
Aberdeen University is also an institution working to develop skills for the future. Dr Colin North is the programme director for the university's MSc in Petroleum Data Management launched in 2016. He said: "The importance of data to the oil and gas industry has grown in recent years, as operators place more significance on its value in supporting exploration and production activity in the UKCS as part of the maximising economic recovery agenda. The analysis and interpretation of this data provides the insight from which substantial investment decisions are taken; for example, where to drill a multi-million-
dollar well or where to locate a multi-billion-dollar production platform. Acting on demand from several multi-nationals with whom we worked closely to develop the programme, the MSc reflects the requirement for a pipeline of skilled talent to manage the tremendous amounts of data at their disposal
The NDR, the new National Data Repository  launched by the Oil and Gas Authority (OGA) in March 2019 could play a vital role in making the oil sector more appealing to young people.  The NDR offers access to 130 terabytes of well, geophysical, field and infrastructure data freely available to any company.  Greta Lydecker, Chevron Upstream Europe MD  said the NDR was just what North Sea industry needed. She said employees at Chevron relished increased access to data: "It's going to be the thing that energises our new employees," she said. OGA chief executive Andy Samuel said he hoped the data bank would be part of the key to attracting the "next generation of talent"
There are plans to build a £7m Scottish Marine Industry Training Centre in Oban which would attract 80 full-time students and hundreds more part-time.  The centre would be based at the European Marine Science Park at Dunstaffnage, next to the Scottish Association for Marine Science (Sams). The new centre would be part of Argyll College.  Executive director with responsibility for development and economic growth, Pippa Milne said: " More than 100 marine businesses operate within a 20-mile radius of Oban. These businesses have specific skill requirements if they are to continue to prosper which has demonstrated a need for the development of new facilities and courses." It is hoped that the initial development of infrastructure in the science park will begin in September next year. Construction will begin in September 2021, subject to funding being in place.
Ten Live -Award-Winning Energy Recruitment
Global Candidate Network – Oil & Gas | Renewables | Temporary Power
Experts In Temporary & Contract recruitment
UK & International In-House Payroll
Salary Checking Service
Quality Staff | Quick turnaround | Excellent Service

Contact
Tel: ++44 (0) 1236 702007
Email: info@tenlivegroup.com
SOURCES
Oil & Gas UK Business Outlook Report 2019