Ten Live are officially THE best business* in Lanarkshire !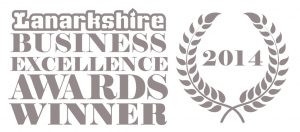 Ten Live are delighted to have won the award for Best Business* at the prestigious Lanarkshire Business Excellence Awards on 7 March 2014 (*in the category for companies with less than 50 employees)
The Lanarkshire Business Excellence Awards  2014 celebrate the success and achievements of the Lanarkshire business community and are the highlight of the Lanarkshire business calendar, attracting high profile industry support and involvement.
The Best Business* Award (*for companies with less than 50 employees) is presented to the company which:
–  Demonstrates dynamism, commitment to growth and success in achieving planned objectives
– Demonstrates a clearly defined vision for developing and growing their business in terms of both turnover and employment and have systems in place to measure performance effectively, particularly in terms of financial controls
-Places staff development and involvement of the workforce in the growth of the business at the core of the business together with a strong focus on the needs of the customer through effective marketing strategies
– Shows a track record in customer satisfaction and continued commitment to exceeding customer expectations, recognising and encouraging the contribution from staff when dealing with customers

would like to thank  all our customers, drivers, contractors, suppliers and staff for all your support and good wishes in winning this award ! We couldn't have done it without you.
Looking For A Job ?
Check out Ten Live's latest jobs at 

 and 

For The Latest 

 And  Industry News
Follow  

 on 

 or on 

 or download our free whitepapers on the 

 website 

 is a global recruitment and resource management company, providing THE very best Global Customer-Centric Resource Solutions including supply chain logistics solutions, energy, rail and telecoms ectors in the UK, MENA, Australia Pacific, Asia and Central/North/South America
Contact our recruitment team at info@tenlivegroup.com or call 01236 702 007