Growth In UK Distribution Centres Creates Thousands Of Warehouse & Pallet Jobs – May 2018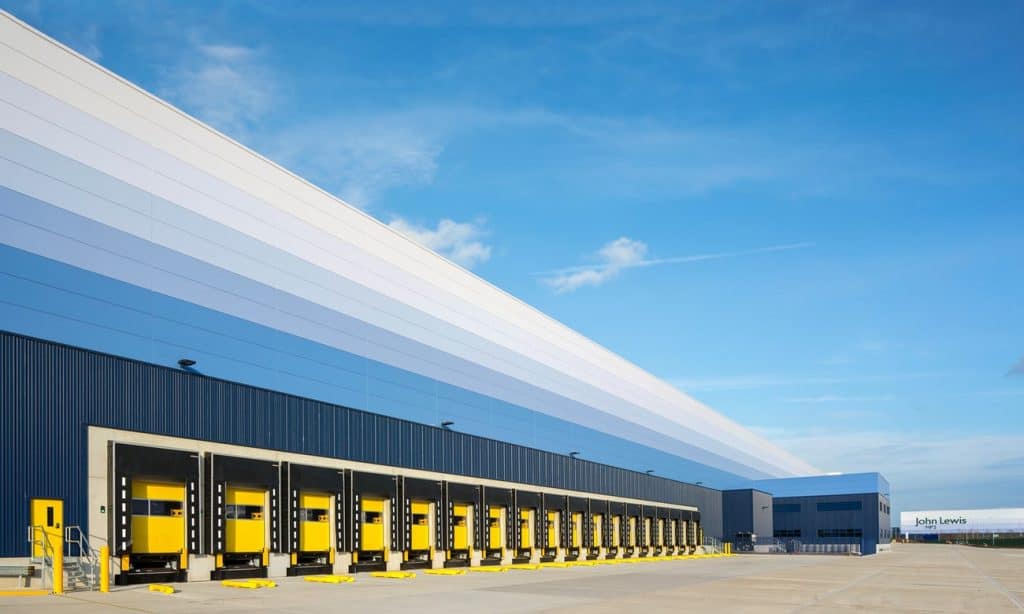 Image Source: The Guardian
Several factors are influencing the rise in the number of the warehouse distribution centres springing up across the UK, bringing with them hundreds of new warehouse and pallet jobs.
The movement of goods from central European hubs into the UK may become more complex if the UK leaves the Customs Union. Also, with fears of increased border security in the UK post-Brexit, more international companies, based both in the EU and outside, are seeking out UK logistics hubs to protect their positions post-Brexit
The continued expansion of supermarket discounters adding more stores to their UK operations requires more regional distribution centres
E-commerce and the increase in home shopping and home delivery
We Are Recruiting!
Pallet Labourers, Team Leaders, Cleaners
Avonmouth & Northampton!
CLICK HERE TO APPLY
Ten Live – Award-Winning Warehouse Recruitment
E:mail info@tenlivegroup.com | Tel: 01236 702 007
In May 2018 alone a  number of major new developments have been announced for new distribution centres and warehouse & pallet jobs;
Johnston Logistics, which counts Amazon amongst its customers, is looking to expand its warehouse capacity to hold around 35,000 pallets. The growth in demand for next-day delivery has meant that the company has had to adapt and increase its day-to-day operations – orders are being received later, and the company has had to implement a night shift for its factory workers who pick and pack online orders for distribution
B&M has announced a new £100m one million square foot distribution centre in Bedford. This is currently under construction to support the opening of 45 new stores. By spring 2020 B&M will use its new warehouse as a base to support UK expansion "for the foreseeable future",  forecasting a substantial growth in the home delivery sector over the coming years
Aldi has announced it is to create 400 roles at a new £50m distribution centre on the Isle of Sheppey. Senior positions will also be available, including warehouse and quality section leaders.
NewCold has completed phase 2 construction of its deep frozen storage and distribution centre in Wakefield, capable of holding 143,000 pallets. It is due to be operational by June 2018 and will be the largest of its kind in Europe.  Newcold plans to recruit 100 new staff over the next 2 years to meet the demands of "increased UK market activity" and demand for storage which it believes will be "triggered by the 'Brexit effect' in European Supply Chains". Jon Miles, Country Director NewCold UK, said: "Currently, it is possible for a food producer to store products in a warehouse close to the coast in Belgium or France and deliver directly into UK Distribution Centres within acceptable lead times. However, a recent study by Imperial College London has indicated that even an additional 2-minute stop at customs checkpoints could lead to the final 40 miles of the journey to the Channel Tunnel taking 5 hours. The time and risk associated with these increased journey times will mean that the most obvious solution is to store the products closer to the market in the UK.  Frozen food handling in the UK is already in peak demand," said Miles, " Phase two of our Wakefield site expansion lifts our capacity to 143,000 pallets but even so, we expect to be 70% full by June 2018. Add this to the increase in storage demand which is likely to be caused by Brexit and it is clear to see why we need to make provision for an additional UK facility."
Stiller Warehousing & Distribution is creating a new 50,000 sq ft palletised distribution centre at its 22-acre site on Aycliffe Business Park to which will be the largest of its type in the North East of England. Stiller has already taken on 26 new employees this year and say the new distribution centre could create up to 25 more new jobs
AIM Logistics is to open a new distribution centre in Evesham in August. The new distribution centre will include a 20,000ft² cold store with 10 loading bays
In March 2018 ALDI secured planning permission for a £25 million expansion to its Regional Distribution Centre in Bathgate. The plans include a new 196,000 sq ft storage and chill facility to service growing store numbers and accommodate additional product ranges. Work will start on the J4/M8 site later this year and is due for completion in 2020. The new facility will create more than 200 new jobs in addition to the existing team of 470 working at ALDI's current distribution centre in Bathgate.
In Januray 2018 Lidl announced it will create 1000 new jobs in Luton as part of its £1.45bn investment in the UK . It will be Lidl's largest regional distribution centre in the UK. Construction has also begun on 2 regional distribution centres at Eurocentral in Scotland and at Avonmouth
CONTACT
Ten Live – Award-Winning Warehouse Recruitment
T: +44 1236 702 007
E: info@tenlivegroup.com
Click here for more information
SOURCES